Evolution: Devastator Deathmatch
Keepforest
Videos
Product Information
You May Also Like
Evolution: Devastator Deathmatch
is the second chapter of the newest addition to the Evolution Series which has established itself in the world of professional composers and sound designers.
Evolution: Devastator Deathmatch
is a premium collection of hand-crafted custom signature sound effects, trailer braams, brasses, signals, distorted basses, playable pads & atmos, cinematic loops and artist stems. The library has a dark and gritty character that can be hear in a lot of trending movies and TV series. The Evolution: Devastator series will definitely be a irreplaceable part for movie and game sound designs, as well as for composing trailers and soundtracks.
More about the
Evolution: Devastator Action Twisted Industrial Toolkit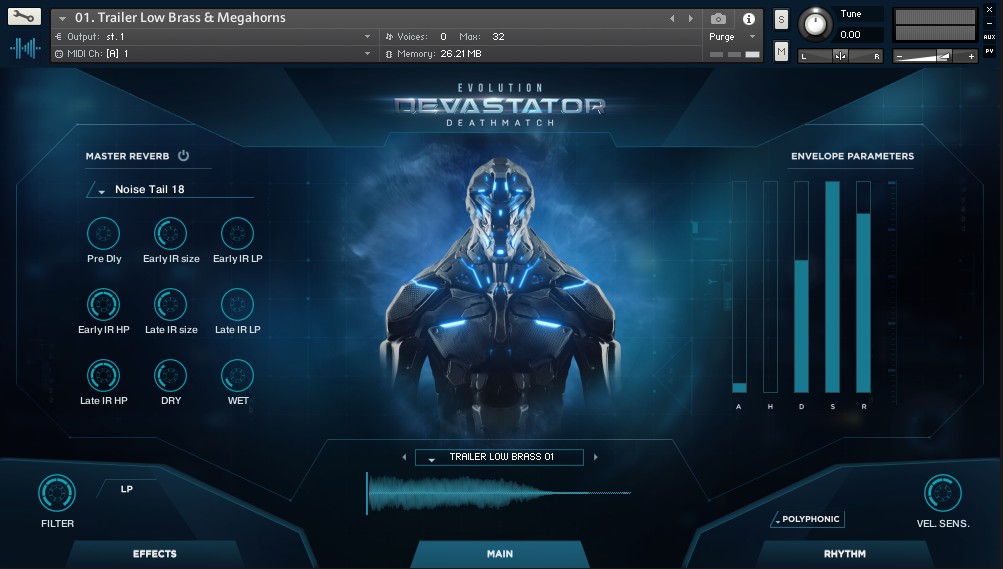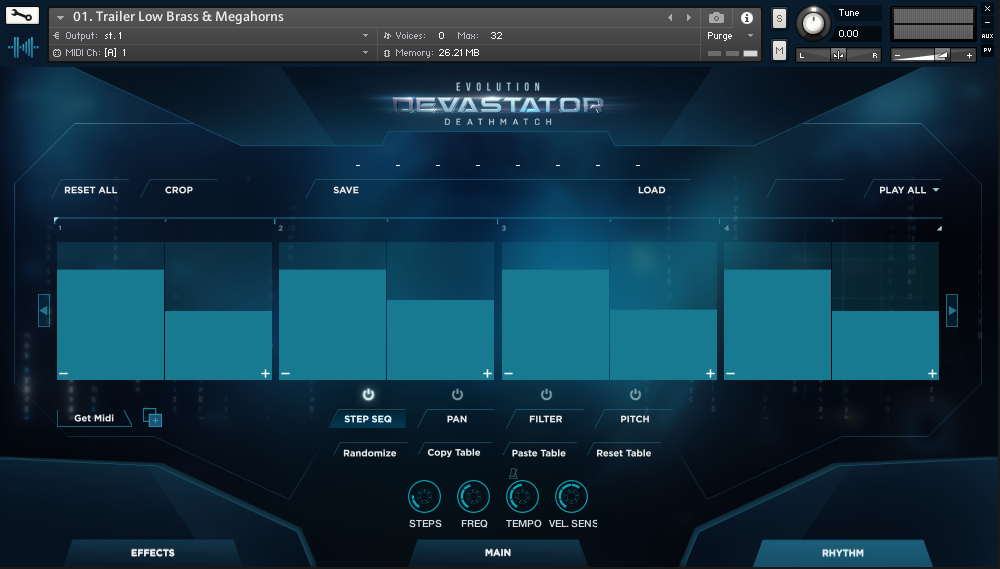 Evolution: Devastator Deathmatch includes:
Features
Premium custom signature sound effects
Meticulous futuristic design
High-quality samples at 48kHz/24bit
CPU-friendly for fast performance
Playable Oneshots
01. Trailer Hits - 14
02. Far Hits - 11
03. Gritty Hits - 38
04. Trailer Brass - 59
05. Devastator Distortions - 36
06. Distorted Bass & Noises - 57
07. Signatures One-Shot - 93
08. Signatures Delayed - 41
09. Downers - 27
10. Pads & Atmos - 135
11. Noises & Ambiences - 18
12. Liquid Noises - 27
13. Reversed & Suckbacks - 10
14. Tik Tok Shots - 110
Playable Instruments
01. Loops

Trailer Drums 70-110 Bpm
Trailer Drums 120-150 Bpm
Tik-Tok
Dirty Perc
Classic Perc
Tonal Loops

02. Trailer Plucks - 32
03. Trailer Low Brass & Megahorns - 9
04. Braams & Pads - 34
05. Signature Bass & Signal - 55
06. Signature Synth & Scream - 37
07. Signature Delayed - 40
08. Devastator Distortions - 35
09. Distorted Bass & Noises - 54
10. Downer - 27
11. Noises & Ambiences - 18
12. Noise FX - 27
13. Reversed & Suckbacks - 10
14. Tik Tok Shots 1 - 30
15. Tik Tok Shots 2 - 30
16. Gritty Hits - 38
17. Far Hits - 11
18. Trailer Hits - 14
Wav Folder Includes
Oneshots

01. Trailer Brass - 59
02. Trailer Hits - 20
03. Liquid Hits -17
04. Far Hits - 11
05. Signatures

Signals & Pings - 43
Screams - 24
Synth - 13
Bass -10
Rhythmic - 41

06. Noises & Ambiences - 18
07. Distorted Bass & Noises - 57
08. Devastator Distortions - 36
09. Downers - 27
11. Pads & Atmos - 30
12. Reversed & Suckbacks - 15

Trailer Loops

Trailer Drum Loops - 40
Hits Loops - 19
Trailer Fills - 20
Classic - 25
Tik-Tok - 34
Dirty - 18
Tonal Loops - 46

Stems
Videos
Devastator Announce Teaser
Evolution: Devastator Deathmatch - Fast Walkthrough
Evolution: Devastator Action Twisted Industrial Toolkit - Fast Walkthrough
Product Information

Tech Specs

Requirements

Downloads
Features
Premium custom signature sound effects
Meticulous futuristic design
High-quality samples at 48kHz/24bit
CPU-friendly for fast performance
Supported Host Application
Kontakt 6 VST, AU, AAX, Standalone
NOT COMPATIBLE WITH FREE KONTAKT PLAYER